An Essential Book For Any Entrepreneurial Library
The Team Success Handbook offers team members and their entrepreneurs insight into what it means to always be learning and growing in a fast-paced, innovative organization. It articulates the many different characteristics that come into play when developing an Entrepreneurial Attitude so that team members and business owners alike can stay current in the marketplace. It's a must-read for anyone looking to take teamwork to the next level!
In 1995, Shannon Waller started coaching the team members of the successful entrepreneurs in The Strategic Coach® Program. As she was coaching, she discovered the need for a thinking tool that would help them better understand the person they were working for (usually the owner), and from there, be able to develop strategies to help them be successful and take advantage of all the unique opportunities that exist in an entrepreneurial company.
The result was 12 success strategies that are essential to being an effective, valued team member in an entrepreneurial organization.
Go deeper into the 12 strategies and beyond, as Shannon shares the fruits of her passionate pursuit to improve teamwork for entrepreneurial team members and their entrepreneurs and multiply their results, value creation, and sense of fulfillment at work.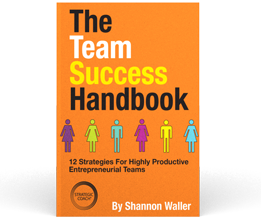 Get the book that will drive your team to the next level.
Reviews for The Team Success Handbook
"While I'd like to think I've mastered many of the strategies in this book, I could never have articulated them so well and so concisely. It's a true guide for success, and it's going to be a must-read for our internal team. I'm ordering a number of copies, so our folks will have a better appreciation of working with an entrepreneur."
Andrew Lavelle
The Siegfried Group, Wilmington, DE
"I read many books each year, and few touch me as this one did. I wish I would have had this book 15 years ago when I was offered ownership at our firm. It took me years to figure out what was so clearly written in your book. I have so many flags marking pages in the book I plan to use with my team. The book is right on target. Thank you for writing it!"
Jodi Halbert
Tealwood Asset Management, Minneapolis, MN
"I had the chance to read your book cover to cover. It is a great read and well organized. I wish I'd had this book when I first started working with my entrepreneur, as many of the lessons I had to learn through trial and error over many months. This book would have cut the learning in half! I would recommend you suggest to all of your clients to include this book in their new hire packets—it is an incredibly valuable tool."
Brenna Hasty
Rosell Wealth Management, Bend, OR
"The Team Success Handbook has been a great tool for focusing our discussions and creating positive energy among our team members. Many of us were amazed that someone had written a book about our company! We use your insights and then discuss specific issues we have had or have. It makes a great platform for having some excellent discussions."
Margaret Wylde
ProMatura Group, Oxford, MS
"Your book is outstanding—so beautifully written, practical, and extremely helpful in building and nurturing entrepreneurial teams. I love the action items at the end of the chapters, and I appreciate the insights into what has worked in your own company. As a long-time Strategic Coach client, I love having this tool with all the strategies artfully laid out and easy to follow. We will definitely be using this book with our own team. Thanks for sharing your passion with all of us."
Jennifer Borislow
Borislow Insurance, Methuen, MA
"Wow, Shannon, you knocked this one out of the park. Reading this book, I felt as though you wrote it about me. How did you manage to capture and so eloquently articulate many of my thoughts and perspectives that have been racing through my mind about my team? Your book provides the recipe for success. I can't wait to share this with everyone I know on my team as well as other entrepreneurs."
Jonathan Gassman
The Gassman Financial Group, New York, NY
"The Team Success Handbook is concise, relevant, and written in a fashion that is easy for the reader to make connections to their personal situation."
Nathan Pike
GCP Industrial Products, Kitchener, ON
"This book is a perfect solution for getting my team on the road to a Self-Managing Company. Your book is bound to become a management classic."
Ron Rogé
R.W. Rogé & Company, Bohemia, NY
"This book totally hits the mark. It's what I've always wanted to say to my team, but didn't know how. What a fantastic way to set the expectations for both new and existing team members. I can't wait to give a copy to each of them."
Dr. Katrin Schmidt
Simcoe Veterinary Hospital, Barrie, ON
"Shannon's book is a must-read to accelerate your career and help your business thrive. Entrepreneurial teams are unique, and this book gives great insights on how to win in this environment. Read this book as a blueprint on how to be a VIP in this exciting, profitable world. Even if you and your entrepreneur aren't yet part of the Strategic Coach Program, this book is awesome."
Jeff MacInnis
The Business Race Inc., The Blue Mountains, ON