Here are Shannon's carefully curated picks of the best resources on team-building and business excellence for entrepreneurial companies, updated regularly. Her passion for expanding her wealth of knowledge is illustrated in this archive; a reflection of 25 years dedicated to researching business practices and the psychology of teamwork.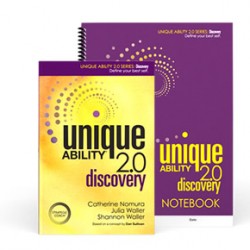 Unique Ability® 2.0 Discovery
by Catherine Nomura, Julia Waller, and Shannon Waller
Business Wisdom

UpSolutions by Patti Mara
Radical Relevance: Sharpen Your Marketing Message – Cut Through the Noise – Win More Ideal Clients by Bill Cates

Selling Boldly: Applying the New Science of Positive Psychology to Dramatically Increase Your Confidence, Happiness and Sales by Alex Goldfayn

The Success Lie: 5 Simple Truths to Overcome Overwhelm and Achieve Peace of Mind by Janelle Bruland

Rocket Fuel: The One Essential Combination That Will Get You More of What You Want from Your Business by Gino Wickman and Mark C. Winters

Business is Business: Reality Checks for Family-Owned Companies by Kathy Kolbe and Amy Bruske

No Ego: How Leaders Can Cut Cost of Workplace Drama, End Entitlement, and Drive Big Results Cy Wakeman

Reality-Based Leadership: Ditch the Drama, Restore Sanity to the Workplace, and Turn Excuses Into Results Cy Wakeman

The Reality-Based Rules of the Workplace: Know What Boosts Your Value, Kills Your Chances, and Will Make You Happier Cy Wakeman

Mr. Shmooze: The Art and Science of Selling Through Relationships by Richard Abraham

Business Brilliant: Surprising Lessons from the Greatest Self-Made Business Leaders about How to Build Wealth, Manage Your Career, and Take Risks by Lewis Schiff

Polarity Management: Identifying and Managing Unsolvable Problems by Barry Johnson, Ph.D.

Hug Your Customers: The Proven Way to Personalize Sales and Achieve Astounding Results by Jack Mitchell
A Complaint is a Gift: Using Customer Feedback as a Strategic Tool by Janelle Barlow and Claus Moller
Onward: How Starbucks Fought for Its Life without Losing Its Soul by Howard Schultz with Joanne Gordon
Do the Work by Steven Pressfield
Made to Stick: Why Some Ideas Survive and Others Die by Chip Heath and Dan Heath
Never Eat Alone And Other Secrets to Success, One Relationship at a Time by Keith Ferrazzi & Tahl Raz
Peak: How Great Companies Get Their Mojo from Maslow by Chip Conley
The Checklist Manifesto: How to Get Things Right by Atul Gawande
Fish! A Proven Way to Boost Morale and Improve Results by Stephen C. Lundin, Harry Paul, John Christensen, and Ken Blanchard
A Whole New Mind: Why Right-Brainers Will Rule the Future by Daniel H. Pink
How The Best Get Better® by Dan Sullivan
How the Best Get Better® 2 by Dan Sullivan
The Ambition Series by Dan Sullivan
The Coaching Habit: Say Less, Ask More & Change the Way You Lead Forever by Michael Bungay Stanier
The Ambition Series by Dan Sullivan
Radical Candor: Be A Kick-Ass Boss Without Losing Your Humanity by Kim Scott

Come Up For Air: How Teams Can Leverage Systems And Tools To Stop Drowning In Work by Nick Sonnenberg
Teamwork And Culture

The Thinking Advantage by Jill Young

Profit Works by Alex Freytag

The Collaborative Way: A Story about Engaging the Mind and Spirit of a Company by Lloyd Fickett & Jason Fickett
The Ideal Team Player: How to Recognize and Cultivate The Three Essential Virtues by Patrick M. Lencioni

Hug Your People: The Proven Way to Hire, Inspire, and Recognize Your Employees and Achieve Remarkable Results by Jack Mitchell

Tribal Leadership: Leveraging Natural Groups to Build a Thriving Organization by Dave Logan, John King & Haylee Fischer-Wright
Delivering Happiness: A Path to Profits, Passion and Purpose by Tony Hsieh
The Five Dysfunctions of a Team: A Leadership Fable by Patrick Lencioni
Overcoming The Five Dysfunctions of a Team: A Field Guide for Leaders, Managers, and Facilitators by Patrick Lencioni
Death by Meeting: A Leadership Fable…About Solving the Most Painful Problem in Business by Patrick Lencioni
Getting Naked: A Business Fable About Shedding the Three Fears That Sabotage Client Loyalty by Patrick Lencioni
The Advantage: Why Organizational Health Trumps Everything Else in Business by Patrick Lencioni
The 6 Types Of Working Genius: A Better Way To Understand Your Gifts, Your Frustrations, And Your Team by Patrick Lencioni
Discovering Your Strengths
Conative Connection: Uncovering the Link Between Who You Are and How You Perform by Kathy Kolbe
Strengths-Based Leadership: Great Leaders, Teams, and Why People Follow by Tom Rath and Barry Conchie
StandOut: The Groundbreaking New Strengths Assessment from the Leader of the Strengths Revolution by Marcus Buckingham
Communication

Connected Parenting: How to Raise a Great Kid by Jennifer Kolari
Never Split the Difference: Negotiating As If Your Life Depended On It by Chris Voss
Fierce Conversations: Achieving Success at Work and in Life, One Conversation at a Time by Susan Scott
Just Listen: Discover the Secret to Getting Through to Absolutely Anyone by Mark Goulston
Personal Change

The Inclusive Mindset by Justin Jones-Fosu

Unhackable by Kary Oberbrunner

Soul Sense: Your Breakthrough to Soul-Full Living and Leadership by Adrienne Duffy
Indistractable: How to Control Your Attention and Choose Your Life by Nir Eyal
Atomic Habits: An Easy & Proven Way to Build Good Habits & Break Bad Ones by James Clear
The Miracle Morning: The 6 Habits that Will Transform Your Life Before 8 a.m. by Hal Elrod
The Miracle Morning for Addiction Recovery: Letting Go of Who You've Been for Who You Can Become by Hal Elrod, Anna David, Joe Polish & Honoree Corder
The Surrender Experiment: My Journey into Life's Perfection by Michael A. Singer
The Untethered Soul: The Journey Beyond Yourself by Michael A. Singer
The Life-Changing Magic of Tidying Up: The Japanese Art of Decluttering and Organizing by Marie Kondo
Driven to Distraction: Recognizing and Coping with Attention Deficit Disorder by Edward M. Hallowell & John J. Ratey

Necessary Endings: The Employees, Businesses, and Relationships That All of Us Have to Give Up in Order to Move Forward by Dr. Henry Cloud
The Happiness Advantage: The Seven Principles Of Positive Psychology That Fuel Success And Performance At Work by Shawn Achor

One Small Step Can Change Your Life: The Kaizen Way by Robert Maurer, Ph.D.

Less Doing, More Living: Make Everything in Life Easier by Ari Meisel
Mindset: The New Psychology of Success by Carol S. Dweck, Ph. D.

The Power of TED* (*The Empowerment Dynamic) by David Emerald
The Gap And The Gain by Dan Sullivan

Author Interview Podcast can be found on yourteamsuccess.com/podcasts