Here are Shannon's carefully curated picks of the best resources on team-building and business excellence for entrepreneurial companies, updated regularly. Her passion for expanding her wealth of knowledge is illustrated in this archive; a reflection of 25 years dedicated to researching business practices and the psychology of teamwork.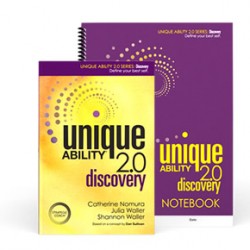 Unique Ability® 2.0 Discovery
by Catherine Nomura, Julia Waller, and Shannon Waller
Business Wisdom
Mr. Shmooze: The Art and Science of Selling Through Relationships by Richard Abraham
Business Brilliant: Surprising Lessons from the Greatest Self-Made Business Leaders about How to Build Wealth, Manage Your Career, and Take Risks by Lewis Schiff
Polarity Management: Identifying and Managing Unsolvable Problems by Barry Johnson, Ph.D.
Hug Your Customers: The Proven Way to Personalize Sales and Achieve Astounding Results by Jack Mitchell
A Complaint is a Gift: Using Customer Feedback as a Strategic Tool by Janelle Barlow and Claus Moller
Onward: How Starbucks Fought for Its Life without Losing Its Soul by Howard Schultz with Joanne Gordon
Do the Work by Steven Pressfield
Made to Stick: Why Some Ideas Survive and Others Die by Chip Heath and Dan Heath
Never Eat Alone And Other Secrets to Success, One Relationship at a Time by Keith Ferrazzi & Tahl Raz
Peak: How Great Companies Get Their Mojo from Maslow by Chip Conley
The Checklist Manifesto: How to Get Things Right by Atul Gawande
Fish! A Proven Way to Boost Morale and Improve Results by Stephen C. Lundin, Harry Paul, John Christensen, and Ken Blanchard
A Whole New Mind: Why Right-Brainers Will Rule the Future by Daniel H. Pink
How The Best Get Better® by Dan Sullivan
How the Best Get Better® 2 by Dan Sullivan
The Coaching Habit by Michael Bungay Stanier
Teamwork And Culture
The Collaborative Way: A Story about Engaging the Mind and Spirit of a Company by Lloyd Fickett & Jason Fickett
The Ideal Team Player: How to Recognize and Cultivate The Three Essential Virtues by Patrick M. Lencioni
Hug Your People: The Proven Way to Hire, Inspire, and Recognize Your Employees and Achieve Remarkable Results by Jack Mitchell
Tribal Leadership: Leveraging Natural Groups to Build a Thriving Organization by Dave Logan, John King & Haylee Fischer-Wright
Delivering Happiness: A Path to Profits, Passion and Purpose by Tony Hsieh
The Five Dysfunctions of a Team: A Leadership Fable by Patrick Lencioni
Overcoming The Five Dysfunctions of a Team: A Field Guide for Leaders, Managers, and Facilitators by Patrick Lencioni
Death by Meeting: A Leadership Fable…About Solving the Most Painful Problem in Business by Patrick Lencioni
Getting Naked: A Business Fable About Shedding the Three Fears That Sabotage Client Loyalty by Patrick Lencioni
The Advantage: Why Organizational Health Trumps Everything Else in Business by Patrick Lencioni
Discovering Your Strengths
Conative Connection: Uncovering the Link Between Who You Are and How You Perform by Kathy Kolbe
Strengths-Based Leadership: Great Leaders, Teams, and Why People Follow by Tom Rath and Barry Conchie
StandOut: The Groundbreaking New Strengths Assessment from the Leader of the Strengths Revolution by Marcus Buckingham
Communication
Fierce Conversations: Achieving Success at Work and in Life, One Conversation at a Time by Susan Scott
Just Listen: Discover the Secret to Getting Through to Absolutely Anyone by Mark Goulston
Personal Change
Driven to Distraction: Recognizing and Coping with Attention Deficit Disorder by Edward M. Hallowell & John J. Ratey
Necessary Endings: The Employees, Businesses, and Relationships That All of Us Have to Give Up in Order to Move Forward by Dr. Henry Cloud
The Happiness Advantage: The Seven Principles Of Positive Psychology That Fuel Success And Performance At Work by Shawn Achor
One Small Step Can Change Your Life: The Kaizen Way by Robert Maurer, Ph.D.
Less Doing, More Living: Make Everything in Life Easier by Ari Meisel
Mindset: The New Psychology of Success by Carol S. Dweck, Ph. D.
The Power Of Ted by David Emerald
The Gap And The Gain by Dan Sullivan